I'm a member of a great
Etsy
team called the
Etsy Recyclers Guild
. You can find our team blog
here
. Cindy from
Retro Chalet
is not only our team captain, but an amazing person. Her
shop
has the best vintage Kitchen, Melmac, print blocks, letterpress and porcelain glove molds as well as other cool vintage things. You can find her blog
here
.
Jadite Boontonware Creamer Sugar Melmac Melamine from New Jersey $16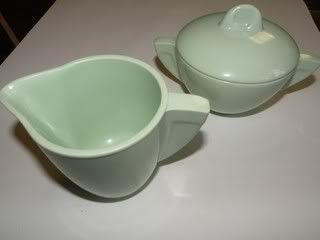 You can find a lot of really cool, vintage kitchen items in her
shop
.
How Now Little Cows - moo cow creamers Instant Collection $16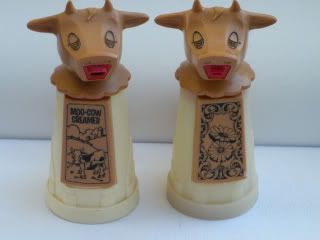 Cindy is a very active member within the
Etsy
community, is a published author and raises money for various charities. She's also an artist. You can find her other shop, Retro Chalet Studio,
here
.
To raise awareness about our team and team
blog
, we are having a contest on our team blog. Please click
here
for additional details.